You'll instantly lose up to 3 sizes off your waist as soon as you secure the trainer. For lasting results, wear it for 6-8 hours daily for 4 weeks, and you'll lose up to 4-inches off your waist. Simply slip on the trainer every day, and watch the sexiest version of you emerge.
How to choose the right fit?

The perfect fit is one that is snug but does not fit too tightly. After reviewing thousands of customer surveys we recommend you choose ONE SIZE LARGER the waist trainers run small. 
The first time is bound to be hard. There is a good chance that you may even need some assistance to get it on but for a waist trainer to work, it needs to be tight in order for it to shape your body well. After you manage to slip into it, it should feel snug but not too tight..make sense? 
WHAT IF I PICK THE WRONG SIZE?
Not a problem! We welcome you to exchange your item(s) by mail in accordance with our Easy Returns policy. If you need helping choosing a size or need to make an exchange just contact us at support@hurricanebeauty.com and we'll be more then happy to help!
HOW TO TAKE ACCURATE MEASUREMENTS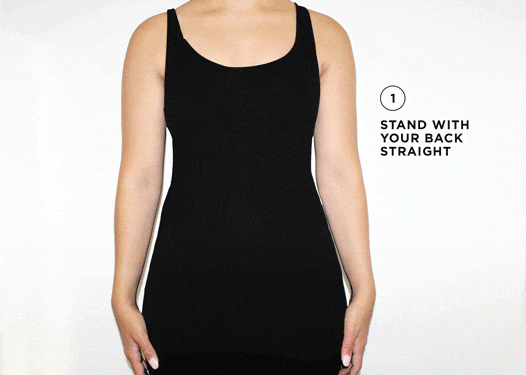 The most important measurement when selecting your perfect waist trainer is, of course, your waist. Using a vinyl measuring tape, measure the narrowest part of your waist, which is typically a couple of inches above your belly button, where there is a natural bend in your torso when you lean to one side. Make sure that the tape is level. It should lie flat on your skin or a very thin tank tap, but it shouldn't be so tight that you can't slip a finger underneath.

Once you've determined your waist measurement, follow the sizing chart for your garment of choice precisely! Every waist trainer on our site has been carefully curated and tested, and we have adjusted the sizing charts to reflect exactly the way they will fit, based on your measurements. Don't simply go with your dress size. Also, note that corset number sizes do not correspond exactly with your waist size; instead, they represent what your waist measurement will be while the corset is tightened.

When using our popular High Compression Waist Trainer, instant hourglass curves are only the beginning of the benefits. It's more than shapewear; it's a lifestyle loved by celebrities and everyday women alike. You get a flatter stomach, improved posture, decreased appetite, and increased core thermal activity every time you wear it.  

}