You'll instantly lose up to 3 sizes off your waist as soon as you secure the trainer. For lasting results, wear it for 6-8 hours daily for 4 weeks, and you'll lose up to 4-inches off your waist. Simply slip on the trainer every day, and watch the sexiest version of you emerge.
WHAT IF I PICK THE WRONG SIZE?
Not a problem! We welcome you to exchange your item(s) by mail in accordance with our Easy Returns policy. If you need helping choosing a size or need to make an exchange just contact us at support@hurricanebeauty.com and we'll be more then happy to help!
WAIST TRAINING BEFORE AND AFTER RESULTS
Does waist training work? Don't just take our word for it – check out these amazing results from real customers who were able to transform their figures using a daily waist training regimen. Consistency is key.
IS WAIST TRAINING SAFE?
Just like any healthy lifestyle practice, waist training is safe when you listen to your body and use common sense. If you are waist training with a garment that fits properly, you shouldn't experience any pain or discomfort. You might be surprised by just how tight a waist trainer can feel if you're not accustomed to it, but it's a feeling you'll get used to—and probably grow to like! But it shouldn't be so tight that you feel short of breath or feel any pain. If that's the case, take it off immediately! It won't work correctly if it doesn't fit.
We also highly recommend that you include core-strengthening exercises as an essential piece of your waist training regimen and healthy lifestyle.
MAKE YOUR OWN BEFORE AND AFTER STORY
Isn't it inspiring and motivating to see other people's waist trainer before and after results? Why not make your own before-and-after success story! Once our customers have carefully selected their ideal waist trainers and made a plan, we encourage them to document their own experience. Even if you don't share your results publicly, you can use these before-and-after results to inspire yourself and stay motivated.
Here are some tips to help you record your personal progress on your waist trainer before and after journey:
Take your waist measurements using vinyl or fabric measuring tape. This is necessary not only for getting the right size on your order but also for recording accurate progress. Take your waist measurement at least once a month. Make sure that the tape lies flat on the narrowest part of your waist, where there is a natural bend in your torso. The tape should be level with the ground; be sure you're not yanking it. You should still be able to fit a finger underneath.
Stop worrying about your weight day by day. Getting an accurate waist measurement is going to be a more relevant factor in your progress than any number you see on the scale! Think about it: your weight can fluctuate based on a number of variables, but the tape doesn't lie. Plus, other people can visually see when your waist is slimmer, while a few pounds are virtually invisible.
HOW TO TAKE ACCURATE MEASUREMENTS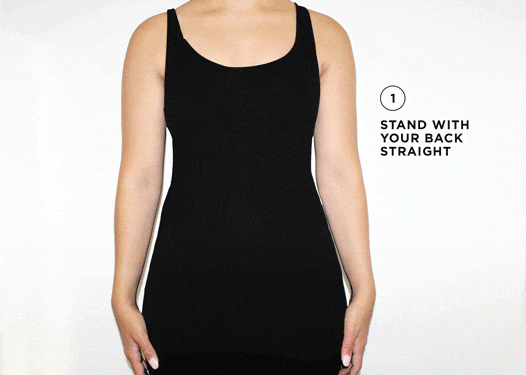 The most important measurement when selecting your perfect waist trainer is, of course, your waist. Using a vinyl measuring tape, measure the narrowest part of your waist, which is typically a couple of inches above your belly button, where there is a natural bend in your torso when you lean to one side. Make sure that the tape is level. It should lie flat on your skin or a very thin tank tap, but it shouldn't be so tight that you can't slip a finger underneath.
Once you've determined your waist measurement, follow the sizing chart for your garment of choice precisely! Every waist trainer on our site has been carefully curated and tested, and we have adjusted the sizing charts to reflect exactly the way they will fit, based on your measurements. Don't simply go with your dress size. Also, note that corset number sizes do not correspond exactly with your waist size; instead, they represent what your waist measurement will be while the corset is tightened.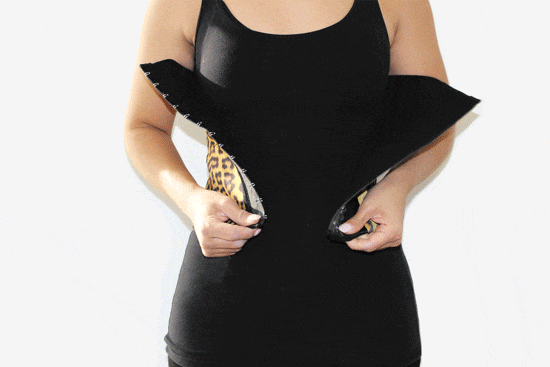 Break in Your Waist Trainer
Before you start wearing your waist trainer all day every day, it is going to take an adjustment period. Your garment needs to be broken in, just like a pair of shoes. If you plan on wearing your waist trainer at a special event, be sure you give yourself adequate time to prepare.
After you try yours on for the first time, only keep it on for about an hour the first day. You can slowly increase the amount of time you wear it each day by half an hour to an hour.
BENEFITS
Improves Posture - improves posture by providing back support, which is crucial for women with medium to large breasts. This also helps exercise be more effective and less painful.
Instantly Shapes - while you're waiting for the effects of waist training to fully take effect, our waist trainer gives you an instant hourglass by acting as compression shape wear, cinching in your waist. Essentially, you can have the shape you want all while training your waist to be smaller.
Unnoticeable - If you plan to waist train for multiple hours most days of the week, you'll naturally be wearing it under your clothes and no one will know. It can smooth your body and make your clothes look great while you are waist training.
Thermogenic Effect - sometimes known as the "Sauna Effect", the thermogenic effect will boost your metabolism during workouts and help you target fat burn in your midsection.
}